Telansen Coating Machinery China attend 22nd Beijing Essen Welding & Cutting Exhibition from 27th to 30th of June. Booth No. is N2123.


We presented with the newest generation Two components painting machine,together with Industrial Painting Sprayer,plural paint equipment,internal pipe coating,internal pipe blasting equipment during this exhibition.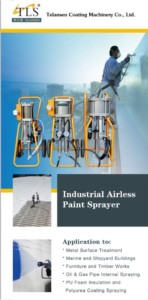 Pneumatic airless paint sprayer is a well-known one in the welding industry and general industry as well. That is for painting metal surface after its superior weld procedure.
In China, some best-known Chinese manufactures like Baosteel have also purchased Telansen painting machines.
Telansen focus on Industrial Pneumatic painting equipment,technology is in the leading position in China.
In this exhibition, Telansen also showed two components spray machine used for PU foaming spraying and polyurea coating spraying, which is widely used for industry.
For more information: http://www.airlessprayer.com